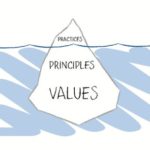 These ideas come from a variety of sources. But they all have a common theme: that a vocation or calling (same word, different language roots, Latin and Greek respectively) defined as "that transcendent summons that gives meaning and purpose to work and contributes to the well-being of others and the common good" (Dik & Duffy, 2012).  For me as a person the transcendent summons implies Someone, another Person, doing the calling, and that finding meaning in life is directly correlated to discovering one's design and then stewarding that design to thank the Caller for all gifts.
Principles for Career Management, Coaching & Vocational Counsel
OUR RELATIONSHIP TO GOD
Workmanship

God wants us to see how really extraordinary we are (see Psalm 139:13-14 and Genesis 1)–the crown of creation, called to be co-creators with God, made in the image of God as workers.  We are not our jobs or our roles in society.

Lordship

God expects us to acknowledge His right to be Lord of our time, talent and treasure by presenting our lives to Him (see Romans 12:1-3, Ephesians 2:8-10, and Philippians 2:5-8).

The call of God is ultimately His invitation to us to accept salvation through faith in Jesus Christ. Christian vocation is our response to this call to salvation, witness and service.

Stewardship

God expects us to accept responsibility for wisely planning, managing and investing the time, abilities, community, and resources God has entrusted to each of us (see Matthew 5:14-29, Philippians 2:12-13, and Proverbs 16:3 and 16:9).

The word, steward, has many parallels to the idea of manager, that is, someone who is placed in charge of someone else's property and is not the owner. Caretaker has a similar nuance. The oft used word, "dominion", however has been misunderstood to imply "use however one wishes."  That is not stewardship.

GOD'S EXPECTATIONS FOR OUR WORK & SERVICE

Work & Rest

Work is purposeful activity created and commanded by God and two-fold: tending, i.e., manual or physical, and naming, i.e., mental or cognitive (see Genesis 1:28-29, 2:19-20, and 3:17-19). And Rest is "cessation from work, " i.e., Sabbath (see Genesis 2:2 and Exodus 20:8-11), a re-creative and refreshing break from labor.

Mission

God wants us to accomplish His agenda on earth and the universe–the restoration of all creation and all humankind to wholeness and to a right relationship with God and with others–through followers of Jesus whoever and wherever they are  (see 1 Corinthians 15:58, Matthew 22:37-40, John 15:10 and 13, Ephesians 2:10, 1 John 3:18, 1 Peter 2:12 and 3:15, Acts 1:8, John 15:5, 16:12-15, Matthew 9:37-38, Isaiah 6, and Nehemiah 1:4).

Expression

God wants us to express our God-given design, that is, our gifts and talents, such as our motivated abilities, skills, interests, circumstances, and relationships (see Exodus 36:1 and Genesis 1:31).

We excel only in work and service that fit our God-given design (talents / gifts), or which God especially empowers us if we are not already so talented or gifted–that is, a miracle occurs.  (See Lee Hardy's The Fabric of This World: Inquiries into Calling, Career Choice, and the Design of Human Work, Eerdmans Publishing, 1990).
Spiritual gifts can simply be defined as "what one does well that benefits others." Gifts (which a person who isn't a follower of Jesus would not recognize as given by Someone) and natural talents are both God-given, that is, the source is the same. The difference between them is in effect:

A gift is always for the common good of others, as a servant leader helping others' and furthering God's mission, not simply for individual use, self-betterment and pleasure.
The distinction between gift and talent becomes less clear when one's God-given talent is used as a gift for others' benefit, that is, in service to them.
One other distinction is that a gift is an exercise rather than a possession. In the Bible's New Testament, the apostle Paul explains that a gift is not given to have but to use, not a possession but an exercise by the power of the Holy Spirit. And the context is corporate, not private. That is, followers of Jesus should not struggle to discover their gifts and then wonder how to use them. Rather, a person participates in the body of Christ, the Church, and sensitive to the needs of others, trusts the sovereign Spirit to guide the use of whatever gifts will meet the needs of the community.

Provision

God provides for our needs and the needs of those for whom God holds us responsible, not our 'wants' (see 1 Timothy 5:8, 18, Genesis 4:2, 21-22, 29:28, 2 Thessalonians 3:6-12, and Philippians 4:19), assuming we are stewarding our time, talents and treasures as gifts from God.

OUR SERVICE THROUGH WORK & OUR WORK IN SERVICE


Integration

God expects us to integrate–that is, balance–Mission, Expression, and Provision, and to put God's kingdom at the center of our lives–what futurist Tom Sine has called "whole-life stewardship" (Matthew 6:33, Philippians 2:5-8, and Matthew 25:21).

We need to be cautioned about choosing common dis-integrations or imbalances:

Mission without Expression or Provision,
Expression without Mission or Provision, or
Provision without Expression or Mission.

There seem to be three models for integrating Mission and Occupation:

Mission-as-Occupation,
Occupation-to-support-Mission, and
Mission-in-one's-Occupation.

Integrity

God expects us to live a godly life while we work (1 Peter 2:12, Galatians 5:19-22) with:

Commitment to getting the job done and done well

(Ephesians 6:5-10, 1 Timothy 6:1-2, Titus 2:9-10, and 1 Peter 2:18 and 21)

,
Dedication to pursue excellence in all we do

(1 Corinthians 10:31)

,
Desire to be obedient to our vocation as Jesus was–death and promised resurrection

(1 Peter 2:12)

, and
Readiness to witness to the reality of Jesus in one's life, having earned the right to be heard

(1 Peter 3:15)

.

Why? God cares about the persons we are and will become through our work, witness and service, whether or not we acknowledge Him.

Interdependence

God expects us to acknowledge our need for other people in discovering our vocation and doing good work, "depending upon one another" (1 Corinthians 12:21, 4-26; Matthew 7:12).

Interdependence is needed to get the job done and keep us humble (1 Corinthians 12:21 and 26), to discover and confirm our proper place in work through the counsel and confirmation of significant people in our lives–our network at home, work, school or in our local church–who:

Know us well enough to be honest with us,
Know the world of work,
Have a proven track record in life and work,
Are committed to help us, and
Follow Jesus, His Word and are guided by His Spirit.
  This outline has been adapted from the "Biblical Principles" workbook of InterCristo's
Career Kit
(1985) by Dick Staub and other resources. Thanks to
Dick Bolles
,
Dick Staub
,
John Bradley
and many others for their thinking that led to my understanding of faith, work and career development.  Any errors in understanding are mine.       Copyright © 2002-2020 Ken Soper. All rights reserved.